ALZMETALL
SPECIALISTS FOR DRILLING MACHINES
70 years of experience in constructing and building of more than 210.000 Drilling Machines
To the machines
Drilling Machines
ALZMETALL is the Market Leader in the Drilling Machine business segment.
An impressing number of more than 210.000 installed Drilling Machines are convincing through their quality, their technics and their sustainability, setting standards worldwide.
We are setting the standard in drilling
We are building upon proper know how
Sequenced in-house manufacturing processes – starting with proper castings through turning, milling, grinding up to assembly – Made by ALZMETALL and Made in Germany
Our technology is guaranteeing highest rigidity with little bounce between table and spindle and is delivering digital features to the operator by means of a TFT-LCD Display
We can respond to any machining task problem optimally with a large and deep product assortment
It is important to us to deliver individual advices with continuous training
24 Months of warranty and a guaranteed  availability of spare parts > 20 years are proving our drive for sustainability
Find the Drilling Machine that suits your project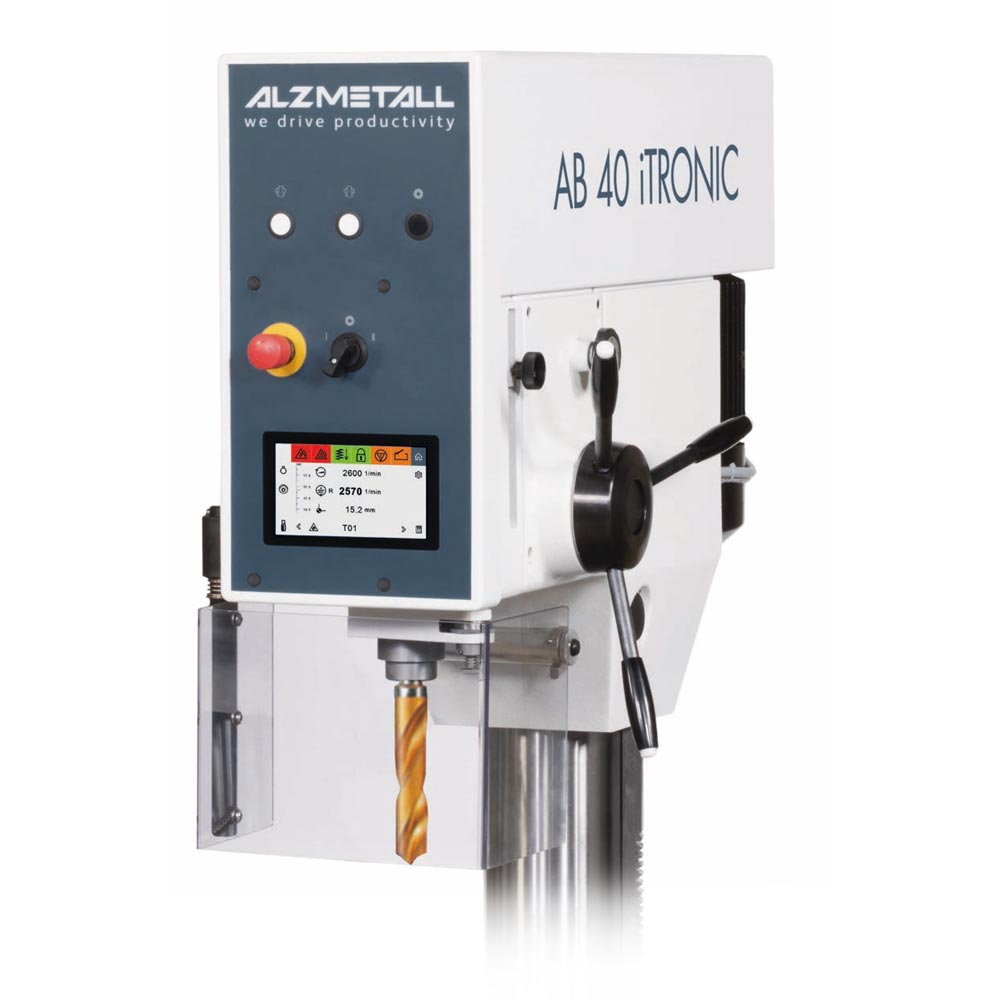 iTRONIC DRILLING MACHINES
Proven technics on a digital highend level
Improved drive technics, using digital building modules, are giving way to complete new possibilities in the daily use of Drilling Machines
technics that are serving Drilling Machine operators with a manifold of new functions.
Thus setting complete new standards.
Optimal operation and readability at the touch screen
Simple operating guidance with smart software tools
Technology calculator guiding through different machining tasks and cycles
Operators' advantages through digital display readouts such as Rpm, drill depth, as well as machine status
Different operator languages and Service infomations
Integrated operating manual may be called upon in the display
Download iTRONIC Flyer
CLASSIC DRILLING MACHINES
Proven technics with conventional operation
For many decades the Classic Series ALZSTAR, AX and AB are recognized by clients worldwide. In all drilling applications these machines are delivering ultimate work results.
Also here we are guaranteeing in-depth advice and reliable ALZMETALL-service.
Highest stiffness and therefore minimal opening bouncing when drilling forces are applied
Specific ALZMETALL column cross-sections with homogeneous cast structure are ensuring highest damping properties
Infinite stepless Rpm setting with optimal torque in all Drilling Machines
A manifold of technically matured details – not only for the overall drive and downfeed concepts – are making these drilling machines series a timeless and sustainable investment